You are a group of Scouts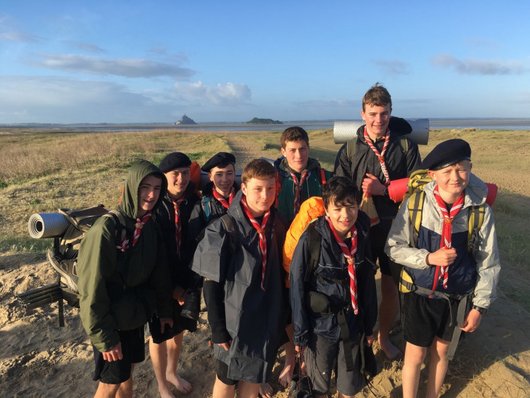 Are you a patrol, a troop, and looking for a guide to cross the bay, a free bivouac solution, a good dose of adventure and also a prayerful dimension during the crossing? You are in the right place!
My presentation commentary of the bay can be accompanied on request and without additional cost of a spiritual animation. Depending on the size of your group, I will offer you a bivouac solution accessible on foot from the starting point of the crossing. After the crossing, economical accommodation solutions, in tents or dormitories, can be offered at the magnificent Priory of Ardevon, the new rear base of Mont-Saint-Michel for pilgrims.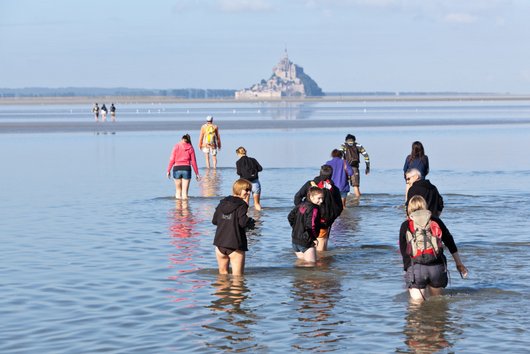 If you wish, I will adapt your crossing to your plans (within the limits of what the tide allows!). We can plan departures at daybreak to discover a bay untouched by any human presence and enjoy Nature even more. This also makes it possible to arrive in time at the abbey church to attend mass with the Fraternities of Jerusalem. If you would like to celebrate mass with your own priest, I will send you the contact details to request to celebrate your own mass at the parish church in the village.
For those who only wish to make a one-way trip in the morning and spend the day at the Mont, you can return by the (only) public bus on line 8 Le MONT-ST-MICHEL-GRANVILLE. Departure at 5:40 p.m. from the Beauvoir car parks. Arrival at 6:42 p.m. in Genets centre (See timetables).