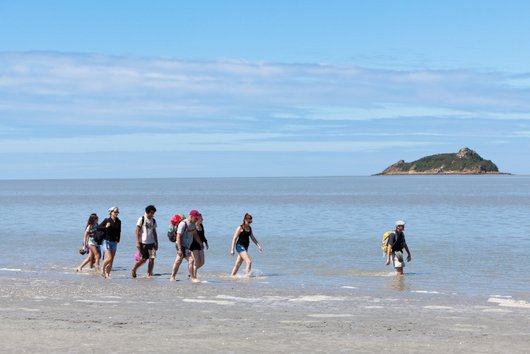 Aventure Tombelaine! (Sortie limitée à 35 marcheurs)
Cette sortie démarre et termine au Mont. Elle est moyennement exigeante en termes de capacité physique. Les commentaires y sont accessibles aux enfants. Elle permet une immersion dans l'environnement naturel de la baie. Sa courte durée vous permettra, si souhaité, d'y associer une visite de l'abbaye et/ou du village. Observation de la faune (oiseaux migrateurs et poissons), récits d'expériences personnelles, découverte et expérimentation des sables mouvants. Focus sur l'Histoire et les légendes de Tombelaine.
Durée totale de 3h00
Langue possibles: français, allemand, anglais, espagnol
Parcours : d'environ 6 à 7 km.
Départ depuis l'entrée principale du Mont-Saint-Michel
Franchissement des fleuves à 2 reprises (20 à 60 cm d'eau)
Accessible aux familles incluant des enfants de 6 ans pour les enfants habitués à marcher et aux -de 3 ans (si portés et bien équipés.)
Chiens acceptés si tenus en laisse et sages
Tarif : + de 12 ans: 20.00€; 12 ans et moins: 14.00€. Gratuit -3 ans (portés)
Tarif familles: réduction de 10% pour les familles, incluant 3 enfants de - de 12 ans, les scouts et les religieux
Pourboire bienvenu merci !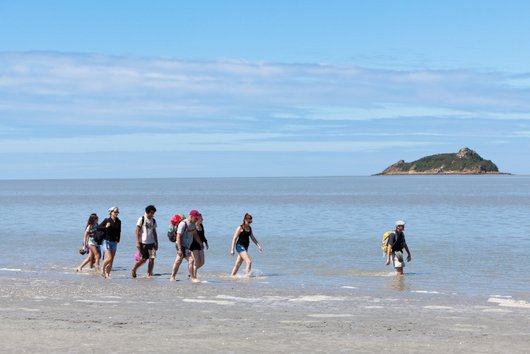 Aventure Tombelaine (Exit limited to 35 walkers)
This outing starts and ends at Mt. It is moderately demanding in terms of physical capacity and leads us to cross. The comments are accessible to children. It allows immersion in the natural environment of the bay. Its short duration will allow you, if desired, to combine it with a visit to the abbey and/or the village. Observation of wildlife (migratory birds and fish), stories of personal experiences, discovery and experimentation with quicksand. Focus on the history and legends of Tombelaine.
Total duration of 3h00
Possible languages: French, German, English, Spanish
Route: approximately 6 to 7 km.
Departure from the main entrance of Mont-Saint-Michel
Crossing rivers twice (20 to 60 cm of water)
Accessible to families including children from 6 years old for children accustomed to walking and to children under 2 years old (if worn and well equipped.)
Dogs accepted if kept on a leash and well behaved
Price: over 12 years old: €18.00; 12 and under: 13.00€. Free - 2 years (carried)
Family rate: 10% reduction for families including 3 children under 12 years old
Tips welcome, thank you!