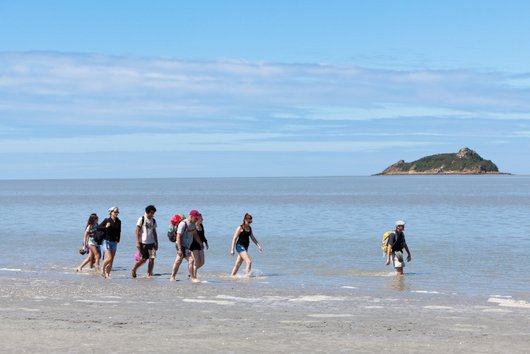 Aventure Tombelaine (Exit limited to 35 walkers)
This outing starts and ends at Mt. It is moderately demanding in terms of physical capacity and leads us to cross. The comments are accessible to children. It allows immersion in the natural environment of the bay. Its short duration will allow you, if desired, to combine it with a visit to the abbey and/or the village. Observation of wildlife (migratory birds and fish), stories of personal experiences, discovery and experimentation with quicksand. Focus on the history and legends of Tombelaine.
Total duration of 3h00. (Please arrive 20 minutes before the start time. Crossing the bridge by shuttle bus can sometimes take up to 1 hour)
Possible languages: French, German, English, Spanish
Route: approximately 6 to 7 km.
Departure from the main entrance of Mont-Saint-Michel
Crossing rivers twice (20 to 60 cm of water)
Accessible to families including children from 6 years old for children accustomed to walking and to children under 2 years old (if worn and well equipped.)
Dogs accepted if kept on a leash and well behaved
Price: over 12 years old: €18.00; 12 and under: 13.00€. Free - 2 years (carried)
Family rate: 10% reduction for families including 3 children under 12 years old
Tips welcome, thank you!