Agencies, coach operators, , tour operator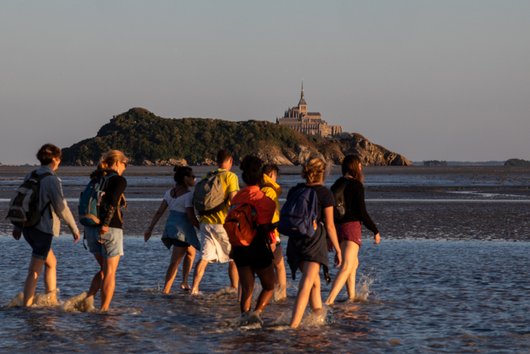 Agencies, coach operators, tour operators
For your French-speaking, English-speaking, German-speaking or Spanish-speaking customers, stand out! Offer an original tour with commentary in their mother tongue that combines nature and culture. It is only by crossing the bay that they will be able to discover the sublime alliance of art and nature specific to this exceptional site. It corresponds to the last stage of the pilgrims of yesteryear and thus enhances the heritage dimension of the history of pilgrimages. This approach is also the only one that allows you to discover the most beautiful face of the Mont, rightly nicknamed "the Wonder".
You will deposit them on the north shore of the bay to entrust them to me in Genets or St Léonard. During this time, the driver will go around the bay (approximately 35 km) to pick up your walking clients. This outing can be combined - or replaced for those who do not wish to walk - with a visit to the Écomusée de Saint-Léonard. Optional possibility of picnic baskets prepared by us or break for an aperitif in the bay.
If some of your customers do not wish to walk, you can offer a visit to the Ecomuseum of St Léonard au Groin du Sud, one of the most beautiful lookouts in the bay.
For the German-speaking groups, I have the exclusivity of releases in German and am myself of German origin. The commentated crossing of the bay is generally done in 3h00 but can be shortened to 2h15.