[Translate to English:] Infos pratiques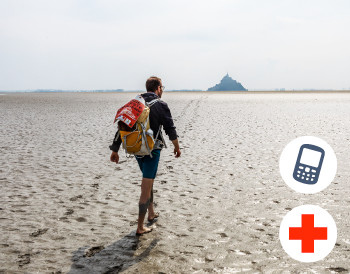 Recommended Outfit & Equipment:
From November to March (included): Barefoot (or with neoprene sandals if you have sensitive feet), shorts, waterproof jacket, upper body well covered and in several layers, 1 backpack / person (at least 30 l), sunglasses, hat/cap at the beginning and end of the season, 1 large bottle of water to fill in the streams to wash your feet, small towel to dry your feet, change for WC access, drinking water, picnic if the departure is before noon or snacks if it is afternoon.
Winter: For "La petite balade" outings, high boots (no ankle boots), gloves, hat, scarf, waterproof anorak.
A little practical advice: The morning of a departure for an outing in the bay, it is recommended to avoid excessive tea and coffee because there are obviously no toilets in the bay. It is therefore also necessary to take precautions before departure!
Only the Bec d'Andaine site in Genets has pay to use toilets.
Parking: The Bec d'Andaine parking lot has become pay and display (meters)
The legal framework allows us to take a maximum of 60 people / guide.
For those who want to combine mass and crossing:
After the crossing, allow 10 to 15 minutes to climb and don't forget to wash your feet and change clothes beforehand.
Abbey mass schedule with the Fraternities of Jerusalem:
From Tuesday to Saturday, you must be between 12:00 p.m. and 12:15 p.m., in front of the Abbey gates and at 11:00 a.m. on Sunday. A sister comes to open and distributes a badge to attend the mass in order to avoid paying at the entrance to the monument. No mass at the abbey on Mondays - it is a "desert" day (rest) for the brothers and sisters.
Times of lauds and vespers and other information on offices: jerusalem.cef.fr/monastiques/ou-nous-trouver/mont-saint-michel-abbatiale/heures-des-offices
Mass times at Saint-Pierre church, in the village:
Mass from Sunday to Friday at 11:00 a.m.
Saturday: early Sunday mass at 6:00 p.m.
Sundays: mass at 4.30 p.m.
Masses for groups: reserve the Saint Pierre church to celebrate the office there
Write to the rector of Mont-Saint-Michel: sanctuary.saint.michel(at)wanadoo.fr
BUS return:
If you do not wish to return, you can return with the (only) bus at 5:40 p.m. See schedules
Attention: the stop of the town hall of VAINS is 4 km from St-Léonard.
That of Genets is 2.5 km from the Bec d'Andaine and 500 m from the Pont de Genets €2.30 the ticket can be purchased from the driver.